When did you start skating?
Around 1989-1990.
What was your first skateboard?
There have been a lot of different firsts: First one I ever tried was a blue see through plexy board with roller skate wheels, first lent to me was a yellow banana board with roller skate trucks/wheels, the first ones that I found abandoned were a Powell Peralata Mike Vallely Street Style (still have on my wall) and a Hosoi Skates – Christian Hosoi Hammerhead, the first that was given to me as a gift was a Bart Simpson complete, the first one I bought was a Rolls Racer Complete (rip off Alice in Wonderland Grosso graphic) and the first pro model I ever fully owned was a Powell Peralta Frankie Hill Bull Dog, first I ever broke was a Birdhouse Jermey Klein Mortal Kombat deck.
When did you stop or slow down significantly?
Never stopped except when sick or incapacitated with injury. I slowed down when I went to college a bit but got really into Freestyle skateboarding so it was a different intensity and focus but still skating fairly regularly. I was skating full time all of 2012-13 teaching the science of skateboarding throughout the US on an assembly tour to which I performed 350 shows in 34 weeks. Since then, I slowed from that intensity as I am not on tour however I do get in skateboarding fairly regularly still but as anyone who is reading this know, not as much as I would like of course!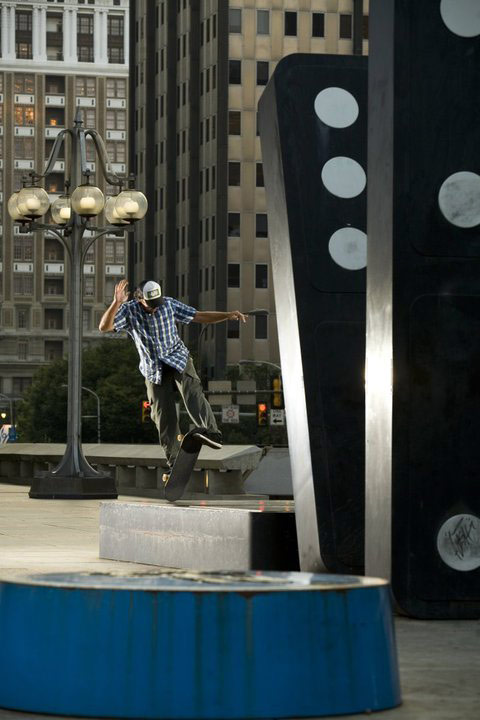 What do you do for a living?
Currently I work for the city of Philadelphia developing and managing the Philadelphia Skateboard Academy and educational programming through skateboarding that I founded. We run a two week intensive skateboard camp before day camps start, a 40 stop recreational facility tour teaching skateboarding as part of the day summer camps, run the skateboard camp in Abington, Pennsylvania. My job includes mentoring and training youth staff, program development, community outreach, design, logistics in addition to organizing and MC-ing the annual Philly Cup Series and Philly Freestyle event. I been developing my edutainment show business through Action Science and One Stunts Team utilizing action sports (skateboarding, BMX, break dancing) as a means to communicate topics to youth grades K-12 such as math/science, anti-bullying, character development, history and more in an entertaining and educational way.
I am also a founding member of The Collective Philadelphia multi use space which we run various events as well as acrobatic and skateboard training. When I am not doing all of the above mentioned I do product design consulting for various groups focused on toy design as well as work for the stage builders union IATSE 8 from time to time.
When you are not skating, how often do you think about skateboarding?
All of the time! I cant stop thinking about it. In many of the products I design there are skateboard elements built into the product. Every time I walk somewhere with my wife or puppy I look at all the possibilities around me and wonder what if I did this or that or look at that over there wouldn't it be cool to do this or that.
How did skateboarding affect the direction of your life?
It gave me a base and identity to work and grow from. It showed me what was possible and how to rethink what, at one time, I may have deemed impossible into being possible. How to persevere, focus negative energies into productive positive outcomes, to think beyond convention, get to know myself better and to become a better person through doing in an almost meditative way and the value of giving back through skateboarding. Skateboarding kept me out of a lot of trouble as I saw what drugs/alcohol did to my friends and how they dropped out of skating and life in general, I never wanted to end up like that. Skateboarding kept me on a straight path as that is all I focused on and put all my energies into. To this day if I have a bad day I will go skate. If I need to figure things out I go skate. If I want to have some fun in the sun I go…well you get the idea. Some people find a substance, some find religion, some travel or find a worth while hobby to deal with things or express themselves it has always been skateboarding for me. Thank God for skateboarding!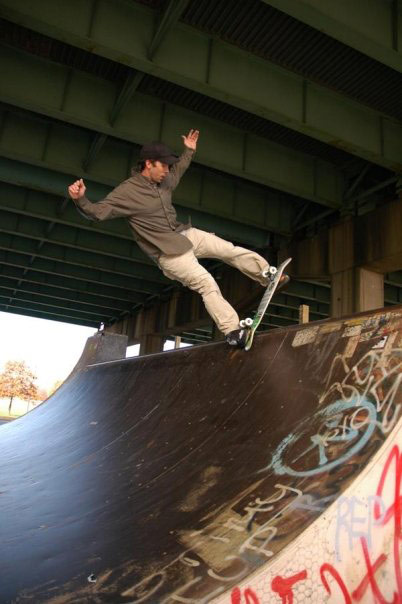 What is the connection between skateboarding and creativity?
The act of skateboarding is a mind, body and soul expression taking place in a physical form in actual time and space. To me creativity and skateboarding are one in the same you cant separate them.
You can tell a lot about someone by just the way the push and carve around as that is the basis of all skateboarding. All the tricks and other forms of that expression is technically freestyle and you really can see what a person is like through the tricks the do, how they do them and what they been exposed to as well as it all goes into the composite of making that individual unique and themselves however also adding to the creative mix we all tap into.
Everything we see, experience, feel can be translated in some way through our skating and once you step onto a skateboard and pursue it you never see anything the same way again. Normal things that most people take for granted now become a pathway for creative expression through the eyes of someone who is a skateboarder. There is a difference between someone who skateboards around and a skateboarder–actions may look similar but it is what they put into it, create and get out of the experience that is different. I did a study in college about the different forms of skateboarding and the people who are more attracted to each form and why for a psychology class. I found in many cases depending on your expression form of skateboarding especially if you were a higher level rider could be telling of the career you would be likely to pursue due to your expression preference. Of course it is not a "rule" as every skateboarder is different however it did give a good idea and indication of what that expression could lead them to later on in life. A quick example would be someone attracted to freestyle skateboarding. These people tend to be highly creative in a technical or almost lyrical way depending on what side of the spectrum they tend to lean towards being: highly focused (many are OCD in someway), very organized, determined and vision of how all the parts go together to make an entire picture or performance. In contests or shows freestylers composed entire runs and intricate sequences of tricks together to the music which also set the mood for the performance. Almost all high level freestylers that you will meet have at least one college degree (science based, high level technical/performance art, music, academia, engineering, business) and many are running the skateboard industry as well as other industries in one way or another due to their form of skateboarding and the way they naturally and creatively express themselves.
More about AJ Kohn
One Skateboards, Franklin's Paine, Philly Freestyle, All Nations Skate Jam
Connect with AJ Kohn